User: Niels Foldager, Denmark
TTS-160 Panther mount with telescope rOTAtor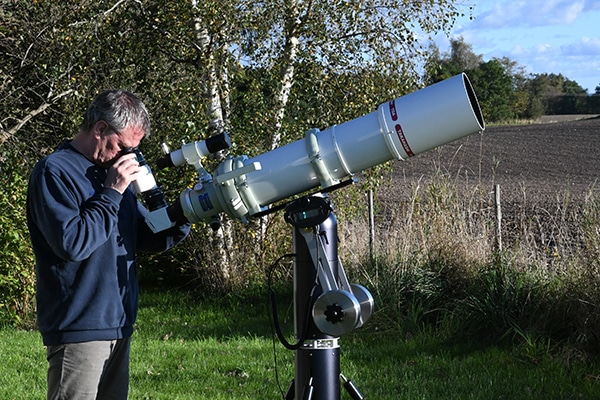 See English Translation
"Jeg er den glade ejer af en Astro-Physics GTO900-opstilling. En meget fin og klippefast ækvatorialopstilling. Men den er også tung og søjlen lang, hvorfor jeg ikke er ret tilbøjelig til at tage den med mig til diverse arrangementer. Jeg skal også tage tilløb, før jeg stiller den op hjemme, da jeg let bruger en time eller mere på at samle den og line den op. Det kræver indstilling på mindst to referencestjerner, hvorunder jeg mekanisk skal justere polaksens azimuth og hældning. Det er ikke noget jeg gør, hvis jeg "bare lige skal se noget". Så jeg må nok sige, at min TTS-160 Panther-opstilling er væsentligt lettere at medbringe. Den er ultrahurtig at stille op, hvorefter den lines op på bare én referencestjerne og uden mekanisk indgriben. Så er den helt fin til visuelt brug og navigation på himlen. Vil man fotografere, kan man bare tage én eller to referencestjerner mere.
Man fornemmer tydeligt, at Panther'en er designet af én, som selv har stået med frosne fingre i mørket og bøvlet med udstyr. Den har mange elegante detaljer og er mekanisk bare i orden.
Fjernkontrollen er en fornøjelse at bruge med sine menuer. Teleskopets retning styres og justeres meget intuitivt med store vandrette og lodrette drejeknapper, som er til at finde og betjene i mørke.
Hvis jeg ikke bruger goto-funktionen, vælger jeg "speed-mode", når jeg skal flytte en længere distance, og den geniale "step-mode", når jeg søger i et område eller finjusterer på et objekt: Klik klik klik, så sidder den midt i trådkorset.
Én fin detalje er, at displayets røde glas holdes fast af magneter og let kan fjernes. Så er data let læselige selv i kraftigt sollys. (AP'ens display kræver mørkeklæde over hovedet i sollys.)
Panther'en er kompakt. Jeg har endnu ikke slået mit hoved på dens kontravægte. Det sker jævnligt på min AP, – selvom det efterhånden ikke gør så meget.
På billedet ses min Panther med en Takahashi TOA-150 apokromat bestykket med Herschel-
prisme og binoviewer. I alt ca. 25 kg."
Niels.
"I am the happy owner of an Astro-Physics GTO900 mount. This is a very good and rock solid German Equatorial Mount. But it is a heavy mount with a large pier so I rarely bring it to starparties. Using the mount at home also takes some dedication as I easily spend an hour or more setting up and aligning. It is necessary to align on at least two stars and to adjust the azimuth and elevation of the polar axis. Not something I do for a quick gaze.
My TTS-160 Panther mount is much easier to transport. It is extremely fast to setup and only one alignment star is needed with no mechanical alignment involved. So it is perfect for visual use and navigation on the sky. If astrophotography is the goal it is easy to add one or two alignment stars more.
You immediately sense that the Panther is designed by someone who has tried to fumble with equipment in darkness with cold fingers. The mount has many elegant details and is mechanically very well constructed.
The hand control is a joy to use with the menu system. Pointing of the telescope is controlled intuitively with large horizontal and vertical rotational knobs, easily located in complete darkness. When I am not using the goto function, I select "speed mode" to move the telescope a longer distance and the brilliant "step-mode" when I am searching an area or center an object: Click Click Click, and the object is dead center.
A nice detail is that the red glass on the hand controller is fixed by magnets and easily can be removed. Then the display can be read even in bright sunlight (The AP mount demands a dark cloth over the head in sunlight).
The Panther is very compact. I still haven't hit my head on the counterweights. Something I have done several times on my AP – even though it no longer makes a big difference.
On the picture you see my Panther with a Takahashi TOA-150 Apochromat, Herschel prism and binoviewer. 25 kg in total."
Niels.
Niels Foldager, Danmark