TTS-160 Panther Telescope Mount – making you a more active Astronomer
Portable

Alt-Az mount

with precision

Equatorial tracking

for the discerning

Astro Imager

and

Observer.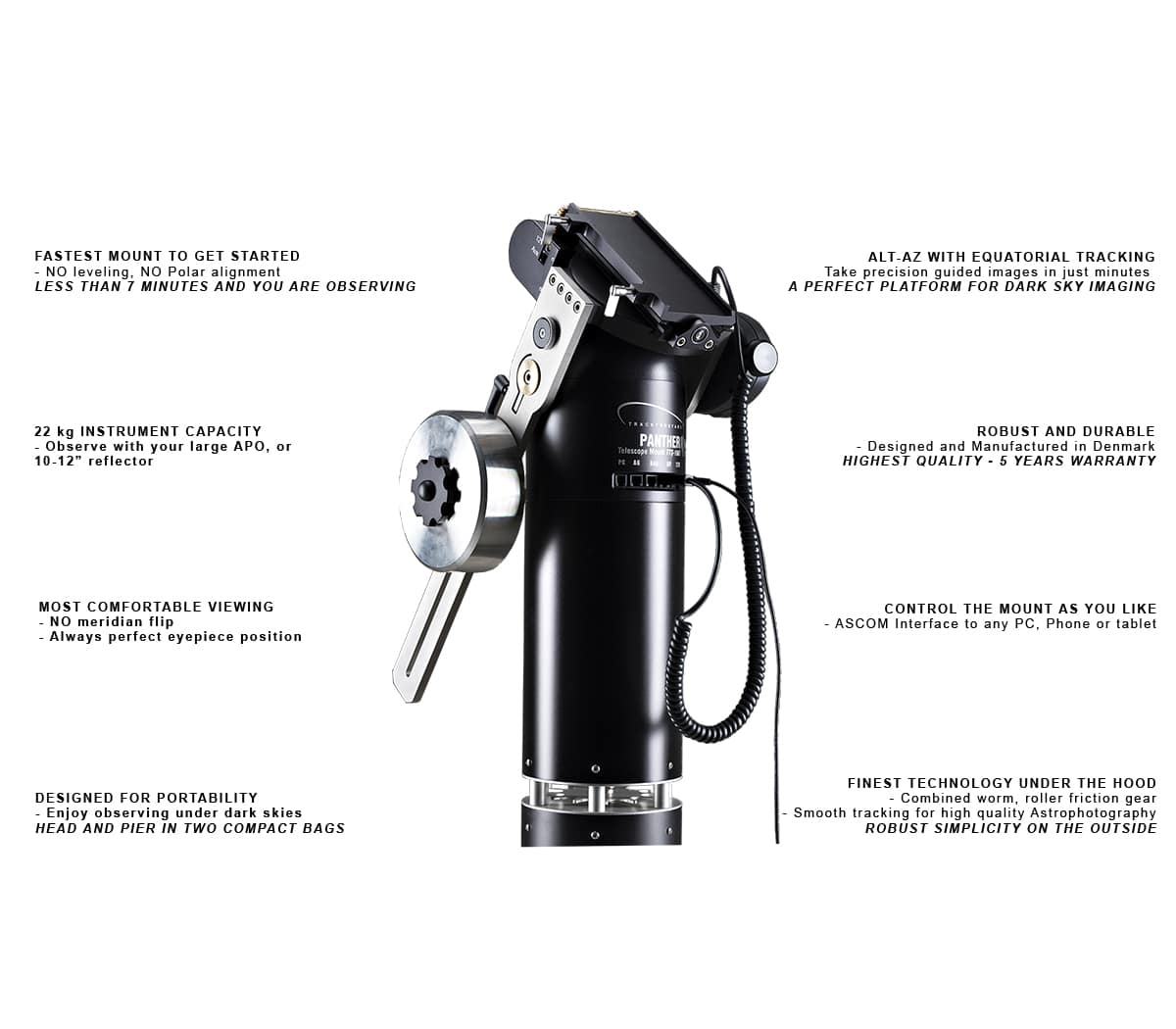 BUY IT
140 mm TEC APO refractor, 60mm TeleVue Guide Scope.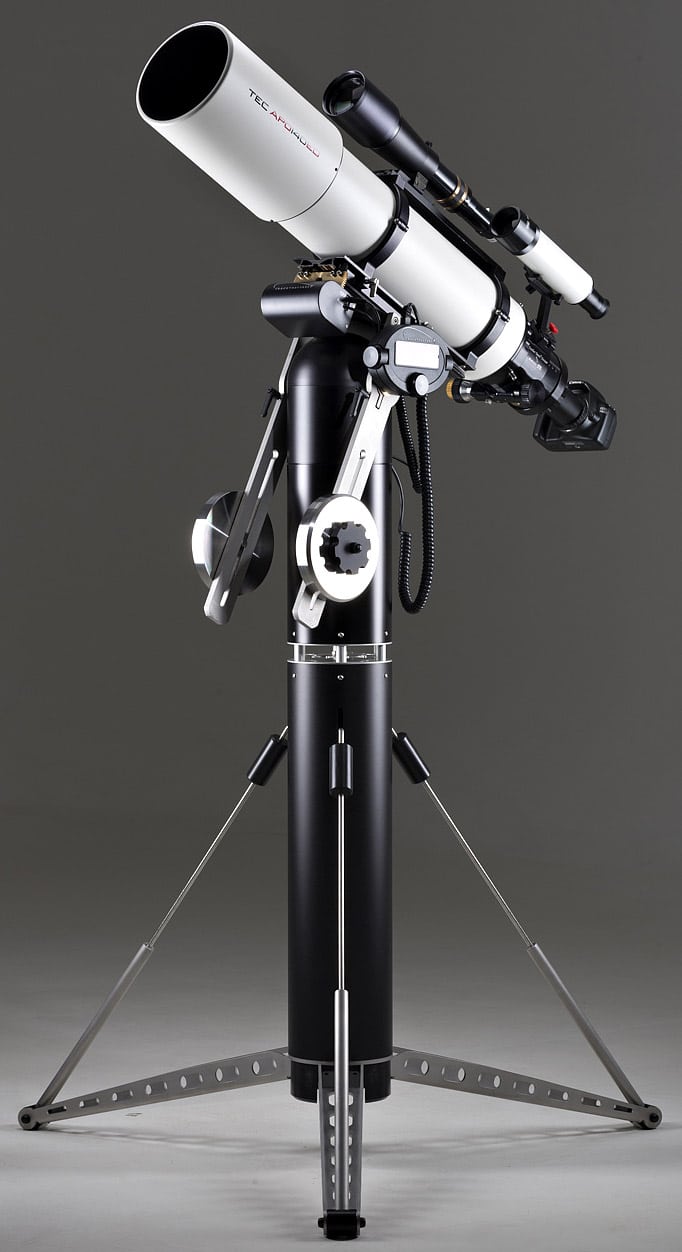 Making you a more active Astronomer
Have you ever tried this:
The sky is clear and wonderful but I have to be up early tomorrow morning.
I don't have the strength to setup and polar align my telescope.
With the Panther Mount the setup and alignment is much easier.
Just setup the Pier, Mount Head and Telescope
NO LEVELING needed.


NO POLAR ALIGNMENT needed
For visual observations align on just one object and you have goto and tracking.
For Astrophotograpy align on just two objects and you have precision goto and tracking.
SETTING UP AND ALIGNING IN JUST 7 MINUTES.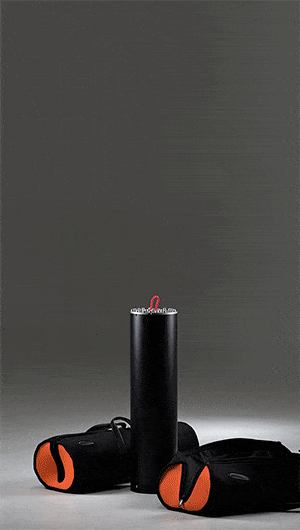 Observe from the darkest places – mount and pier in two compact bags
The Panther mount has been designed for the easiest transport – no matter if it is into your backyard or remote dark sky sites. Utilizing the compact and stable Alt-Az design it has been possible to create a telescope mount much more smooth and simple than competing high end mounts. The design with no protruding parts leads to that the mount can be transported safely in two compact lightweight bags. NO need for bulky transport cases.
Equatorial Tracking for perfect long exposure Astrophotography
The many benefits of the Alt-Az mount usually means you can't do serious Astrophotography. For the Panther Mount we have invented a completely new solution to this by introducing the telescope rOTAtor. With this unit installed on the mount head the telescope will track equatorially for long exposure Astrohotography. Everything is controlled by the internal software based on the initial alignment.
Examples of user Astrophotos taken on the Panther Mount – click for more details
A flexible mount system for all your telescopes
The Panther mount system can be configured to match many needs. See some of the possible solutions below and have a look at the configuration chart.
TTS-160 Panther Specifications
Type
Alt-Az mount with Equatorial tracking
Weight Mount Head (with topmount and arms)
16 kg
Materials
Black Anodized Aluminium
Stainless Steel
Azimuth Drive
Ø100mm bronze worm gear drive combined with second stage friction roller gear. Springloaded worm assembly for zero backlash
Altitude Drive
Ø120mm bronze worm gear drive. Springloaded worm assembly for zero backlash
Drive Motors
DC servomotors with high resolution encoders (0.10arcsec step size)
Power Supply Needed
12V 3A battery
Slewing Speed
3 degrees per second
Telescope Dovetail
Top Mount has Dual Vixen/Losmandy Dovetail saddle. Additional Vixen size dovetail saddles can be installed on side arms.
Telescope Capacity
22 kg on Topmount / 2 * 15 kg on side mount dovetail saddles – depending on telescope length and weight distribution
Object Catalogs Installed
Planets, Messier Catalog, NGC Catalog, IC catalog, Bright Star Catalog
PC Interface
LX200/ASCOM Interface. Works with all major planetarium and telescope control software packages.
Autoguider Port
ST4 compatible port
Firmware
The internal firmware is stored inside the mount head and can be updated by the user via the PC interface.
Transport Bag size
Diameter 180mm (7inch), Length 600mm (24 inch)
Specifications
Specifications are subject to change without notice
We call it: The Fastest Way to the Darkest Sky